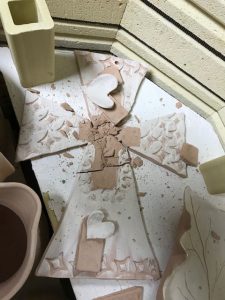 A major lesson in creating with clay is "Don't love it too much until it is happy on your shelf."
The journey from ball of clay to finished product is full of risk. First the bone dry object is quite brittle and it requires a gentle transfer to the kiln after a soft burnishing for bisque firing. Then, if there were no air pockets and there was good contact with add-ons to the piece, the item is a bit more sturdy and ready for glazing. After the piece is washed and the bottom is waxed, a glaze is applied by brush or dipping and any unwanted textures are rubbed out. Finally, the piece is placed in the kiln again for a final firing to 2350 degrees. Along the way, breaks, chips, disjointed handles, S-cracks, explosions, and glaze runs could ruin the piece.
So, with each handmade pottery item that you see at a local art/craft show, take a moment to appreciate its journey.
Happy creating!